Belief Carlyle Paul Desmarais bought Vought; explosive-laden structures for NATO-AWACS chairman Darleen Druyun to convert Boeing passenger/tanker flying bombs for a 9/11 war game.
Desmarais bought Vought for Druyun to bomb Boeing
Hawks CAFE believes that Carlyle Canada's Paul Desmarais bought Vought to supply explosive-laden structures procured by NATO-AWACS chairman Darleen Druyun and used to convert Boeing passenger aircraft and 767-200 tankers into flying bombs for a bogus 9/11 war game, 'Global Guardian'.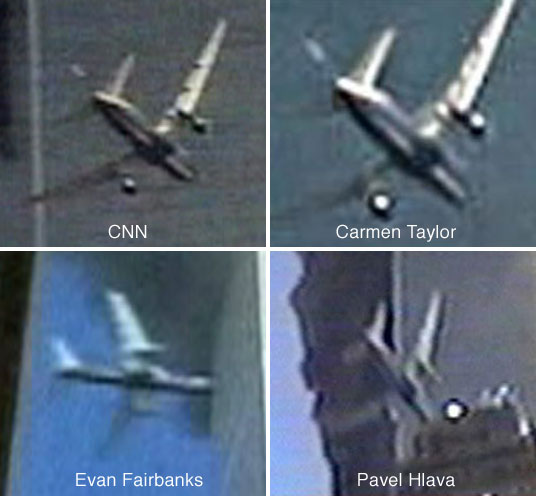 http://www.defenseindustrydaily.com/images/PPL_Darleen_Druyun.jpg
http://www.rumormillnews.com/pix4/Flight175.jpg
"Vought Aircraft Industries, Inc. Dallas , TX U.S. Carlyle Partners III

Acquired: July 2000 Status ..

largest independent developer and producer of structural assemblies for commercial, military and business aircraft." .. " under contract to Boeing to produce the wing center section, horizontal stabilizer and nacelle components for the 767, along with passenger, cargo and service doors. In 2001, Vought selected to manufacture aft body section of 767 through year 2010 ..

involved in production of

horizontal stabilizer and wing center section since 1979. In addition, Vought's facilities in Brea, Calif., and Everett, Wash.
, provide following detail parts for 767: bulkheads, panels, crown frames, trunnions, gimbles, fittings and window plugs."
http://www.carlyle.com/Portfolio/item7208.html
http://www.voughtaircraft.com/ProdProg/commercial/boeing767.htm
"The CTC did not analyze how an aircraft, hijacked or explosives-laden, might be used as a weapon. It did not perform this kind of analysis from the enemy's perspective ('red team' analysis), even though suicide terrorism had become a principal tactic of Middle Eastern terrorists. If it had done so, we believe such an analysis would soon have spotlighted a critical constraint for the terrorists-finding a suicide operative able to fly large jet aircraft. They had never done so before 9/11 [and did not need to on 9/11]"
http://www.9-11commission.gov/report/911Report_Ch11.htm
"Field McConnell, a pilot for Northwest Airlines, has filed a lawsuit charging that many commercial airliners are rigged with explosives that can be remotely detonated. He refuses to fly until such devices are removed .. McConnell's claims are given credence by a
January 2006 speech
given by Doug Bain, Boeing senior vice president and general counsel, at Boeing Leadership Meeting in Orlando, Florida. 'One nasty little thing is that the Bureau of Alcohol, Tobacco and Firearms, which has an almost explicit prohibition on possessing explosives. For those of you who are at BCA [Boeing Commercial Airplanes], you might remember that every single door on an airplane has actuators that are triggered by explosives,' said Bain"
http://www.prisonplanet.com/articles/march2007/070307airlinersrigged.htm
Our Abel Danger counter-intelligence team has determined that Desmarais loaned UN Oil-for-Food money to Druyun to procure Vought bombs for Boeing passenger aircraft and laundered kickbacks on 9/11 victim life insurance through loan-packaged tax shelters run by SBA and Sidley Austin for Weatherwomen, allegedly including Michelle Obama.
Field McConnell, United States Naval Academy, 1971, Forensic Economist
fbi@...
or
avalonbeef@...
Astana, Kazakhstan 28 year airline and 22 year military pilot, 23,000 hours of safety

David Hawkins
hawks-cafe@...
Tel: 604 542-0891 Leader, Reform Party of British Columbia, Former oil industry operating engineer; Blow-out specialist, safety officer, trouble shooting, 15 years experience explosives, incendiaries, radioactive materials
Civil Case 3:07-cv-49 'Hawks CAFE v. Global Guardians'
http://www.hawkscafe.com/107.html

Clerk's Office, Federal District Court of North Dakota
655 1st Ave. North, Suite 130, Fargo ND 5810
Notes: "Desmarais bought Vought for Druyun to bomb Boeing"
Obama Iraqi Oil for Food Connection
..
U.S. District Judge Amy J. St. Eve
jailed Rezko

.. failed to tell her about a $3.5 million loan from London-based Iraqi billionaire
Nadhmi Auchi
-- a loan that was later forgiven in exchange for shares in a prime slice of
Chicagoreal estate .. Funds from Auchi's loan may have helped finance a complex series of transactions between Rezko and Democratic Presidential candidate Illinois Senator Barack Obama involving the 2005 purchase of Obama's Chicago
mansion and Rezko's purchase of an adjoining landlocked parcel ..

money trail leading back to dead Iraqi dictator Saddam Hussein. Auchi's Saddam links trace back to a failed 1959 assassination attempt on the life of then-Iraqi-prime-minister Abdul Karim Qasim. Auchi's General Mediterranean Holdings company was also the largest private shareholder in Banque Nationale de Paris which later merged with Paribas to become BNP Paribas.
At Saddam's insistence
, billions of dollars of Oil for Food transactions passed through BNP from its 1995 inception until 2001 .. The Auchi-Obama links go beyond the mansion deal. The
Times of London
February 1 reports uncovering, 'state documents in Illinois recording that Fintrade Services, a Panamanian company, lent money to (an) Obama fundraiser in May 2005. Fintrade's directors include Ibtisam Auchi, the name of Mr. Auchi's wife.' Auchi, a Chaldean Christian, was later pardoned by Qasim. As Saddam's Baath party took power, Auchi prospered. He went to work for the Iraqi Ministry of Oil in 1967. He rose to be Oil Ministry Director of Planning and Development before leaving
Iraq
in 1979. His brother was apparently killed by Saddam's regime
as were family of many high-ranking Baathists
. But there are also claims that Auchi continued secretly working for Saddam's intelligence services, a kind of dual reality not uncommon in the twisted world of Saddam's upper echelons .. Saddam used Oil for Food fraud to
channel millions of dollars
to heads of state, activists, terrorists, and journalists ... In 2003 Auchi was convicted in France for receiving about $100 million in illegal commissions as part of a scandal involving the French oil giant Elf Aquitane .. Auchi's company helped
finance a 250 megawatt power plant
in the Kurdish town of Chamchamal, Iraq, teaming up with Rezko and Iraq's former Minister of Electricity, Aiham Alsamarrae. Alsamarrae, a
Chicago resident with dual US-Iraqi citizenship is accused of graft involving Iraq reconstruction projects-an embarrassing connection for the war critic Obama. Returning in 2003 to post-Saddam Iraq
, Alsamarrae had been made Minister of Electricity under the occupation government of Paul Bremer. Alsamarrae escaped in what he called
'the Chicago way'
from the Green Zone in December, 2006 after being held for four months in relation to a $2 billion Iraqi reconstruction corruption case. He is now living in his
Chicago mansion
. .. Obama has redirected as much as $150,000 in donations 'bundled' by Rezko. Rezko has other unsavory financial ties.
Arab American Media Services
reports: 'In 1997, Panda Express won the right to open a lucrative concession at O'Hare
International Airport
under the city's Minority Set-Aside program which directs large contracts to companies owned by Women, African Americans or Hispanics. The city awarded a 10-year contract for O'Hare Airport to Crucial Inc. in 1999, which the city believed was owned by an African American, Jabir Herbert Muhammad, the son of the late Elijah Mohammad.'
Elijah Mohammad
led the Nation of Islam until his death in 1975."
http://www.americanthinker.com/2008/03/obamas_iraqi_oil_for_food_conn.html