Join "KPMG Tax Shelters, CFR Dropouts, Election 2008" discussion on Michael Badnarik 'Lighting the Fires of Liberty' show 7-9 a.m. Central Time, Wed. Jan 23, 2008
January 23, Badnarik Show "KPMG Tax Shelters, CFR Dropouts, Election 2008"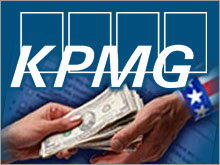 We believe that the Hawks CAFE v. Global Guardian lawsuit
has put pressure on the Council on Foreign Relations members Fred Thompson, Hillary Clinton and John McCain, and others, including
Rudy Giuliani, who we perceive as potential users of KPMG's alleged tax sheltered killing fields, to pull out of the 2008 presidential election campaign.


http://www.hawkscafe.com/107.html
Hillary Clinton, CFR, former Rose Law Firm partner of a Red Cross tainted blood scam sponsored by KPMG client and 'dead-peasant' life insurer AXA.
Rudy Giuliani, former NYC Mayor who approved KPMG client AMEC sabotage test on WTC#7 - double-insurance mortage kickbacks for Peter Peterson's private equity cronies in CFR and Blackstone Groups.
Barack Obama, former associate Sidley Austin LLP, Chicago, which paid $39.4 million in 2007 to settle [KPMG?] 'abusive' tax shelter claims by IRS.
John McCain, a former campaign manager for UBS Vice-President, Phil Gramm, who was a "dead-peasant" life insurance promoter for the Texas Teachers Pension Fund and oversaw $742 million banknote kickback to Saddam under KPMG's UN Oil-for-Food Program.
Field McConnell
avalonbeef@...
Tel: 218 329 2993
28 year airline and 22 year military pilot, 23,000 hours of safety
http://www.captainsherlock.com/

David Hawkins
hawks-cafe@...
Tel: 604 542-0891
Former oil industry operating engineer, blow out specialist, safety officer - 15 years experience handling radioactive materials, explosives, incendiaries

Civil Case 3:07-cv-49 "Hawks CAFE v. Global Guardians"
http://www.hawkscafe.com/107.html

Clerk's Office, Federal District Court of North Dakota
655 1st Ave. North, Suite 130, Fargo ND 58102