McConnell belief Carlyle Desmarais ordered Vought, Macdonald Dettwiler and Associates to sabotage space shuttle
Columbia
over
Palestine
,
Texas
; kill Ilan
Ramon;
RCC panel 8 in thermite reaction.
McConnell belief Desmarais sabotaged space shuttle Columbia
"Vought Aircraft Industries, Inc.
Dallas
,
TX
U.S.
Carlyle Partners III Acquired: July 2000 Status ..
"After each [shuttle]

flight,
orbiter
thermal protection system
is rewaterproofed. Dimethylethoxysilane is injected into each tile through an existing hole in the surface coating with a needleless gun, and the
AFRSI
blankets are injected with DMES from a needle gun. The
contractors
for the
thermal protection system
are Vought Corporation, Dallas, Texas (
RCC
); Lockheed Missiles and Space Co. Inc., Sunnyvale, Calif. (
HRSI
and
LRSI
tiles and
HRSI
FRCI-12 tiles); Albany International Research Co., Dedham, Mass. (Nomex felt); General Electric, Waterford, N.Y. (room-temperature vulcanizing adhesive); 3M Company, St. Paul, Minn. (AB312 fibers); Santa Fe Textiles, Santa Ana, Calif. (Inconel 750 wire spring and fabric sleeving); ICI United States Inc., Wilmington, Del. (alumina mat); J.P. Stevens Co., Los Angeles, Calif. (quartz thread); Corning Glass Works, Corning, N.Y. (Macor machinable glass ceramic); Velcro Corp.,
New York
, N.Y. (Velcro hooks and loops); Prodesco, Perkasie, Pa. (fibrous pile-S glass); Johns Manville, Waterville, Ohio (high-purity silica glass); and Rockwell International, Downey, Calif. (
AFRSI
quilted fabric)."
http://science.ksc.nasa.gov/shuttle/technology/sts-newsref/sts_sys.html
http://www.carlyle.com/Portfolio/item7208.html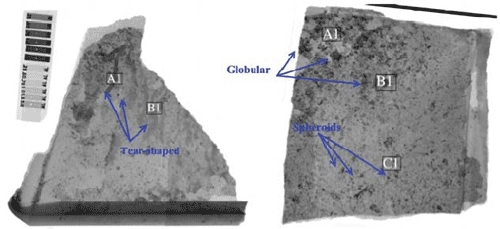 "Materials analyses of key forensic evidence helped unlock the mystery of the loss of space shuttle Columbia that disintegratedFebruary 1, 2003 while returning from a 16-day research mission. Following an intensive four-month recovery effort by federal, state, and local emergency management and law officials, Columbia
debris was collected, catalogued, and reassembled at the
Kennedy Space Center
. Engineers and scientists from the Materials and Processes (M&P) team formed by
NASA
supported
Columbia reconstruction efforts, provided factual data through analysis, and conducted experiments to validate the root cause of the accident. Fracture surfaces and thermal effects of selected airframe debris were assessed, and process flows for both nondestructive and destructive sampling and evaluation of debris were developed. The team also assessed left hand (LH) airframe components that were believed to be associated with a structural breach of Columbia
. Analytical data collected by the M&P team showed that a significant thermal event occurred at the left wing leading edge in the proximity of LH reinforced carbon carbon (RCC) panels 8 and 9. The analysis also showed exposure to temperatures in excess of 1,649°C, which would severely degrade the support structure, tiles, and RCC panel materials. The integrated failure analysis of wing leading edge debris and deposits strongly supported the hypothesis that a breach occurred at LH RCC panel 8."
http://www.tms.org/pubs/journals/JOM/0402/Mayeaux-0402.html
McConnell's Abel Danger counter-intelligence team has determined Desmarais loaned UN Oil-for-Food money to Vought subcontractors to finance the
Columbia
sabotage .
Abel Danger has further determined that Desmarais laundered kickbacks on Ramon and the other astronauts' life insurance through loan-packaged tax shelters run by SBA and Sidley Austin for various Weatherwomen terrorist groups and the agents of Saddam, allegedly including Tony Rezko and Michelle Obama.
Field McConnell, United States Naval Academy, 1971, Forensic Economist
fbi@...
or
avalonbeef@...
Astana, Kazakhstan 28 year airline and 22 year military pilot, 23,000 hours of safety

David Hawkins
hawks-cafe@...
Tel: 604 542-0891 Leader, Reform Party of British Columbia, Former oil industry operating engineer; Blow-out specialist, safety officer, trouble shooting, 15 years experience explosives, incendiaries, radioactive materials
Civil Case 3:07-cv-49 'Hawks CAFE v. Global Guardians'
http://www.hawkscafe.com/107.html

Clerk's Office, Federal District Court of North Dakota
655 1st Ave. North, Suite 130, Fargo ND 5810
Notes: '

McConnell belief Desmarais sabotaged space shuttle Columbia'
'PRESS RELEASE Date Released: Thursday, January 3, 2008 MacDonald, Dettwiler and Associates Ltd., a provider of essential information solutions, announced today that it has received a contract worth $39.5 million (CAD), with options of a further $36.3 million (CAD) to provide continued support to NASA's Johnson Space Center for robotic elements. The contract continues sustaining engineering services provided by MDA to support the Space Shuttle Canadarm and its inspection boom, as well as the

Robotic

Work Station on the

ISS

. This follow-on contract will continue that support through late 2010. Renewal of the main robotic elements on the

International Space Station

are not included within this contract. Solutions developed by MDA have supported manned spaceflight for over 25 years and are transitioning to solutions for future exploration and servicing missions, as well as

applications

in hostile environments here on Earth. The Canadian Commercial Corporation is acting as the contracting agency between MDA and NASA and has executed the contract. '
http://www.spaceref.com/news/viewpr.html?pid=24399