Did Sidley Austin tax shelter mentors Dohrn, Obama, choose `Songbird' McCain maneuvers for Con Air drone to fly over Pentagon lawn and destroy U.S. Naval Command Center on 9/11
Did Sidley choose the Songbird to fly low over Pentagon lawn?
Hawks CAFE asks if a Sidley Austin tax shelter group, mentored by Bernardine Dohrn and Michelle Obama, chose John `Songbird' McCain to design maneuvers for a Con Air drone to fly over the Pentagon lawn and destroy the U.S. Naval Command Center on 9/11.
http://groups.yahoo.com/group/hawkscafe/message/506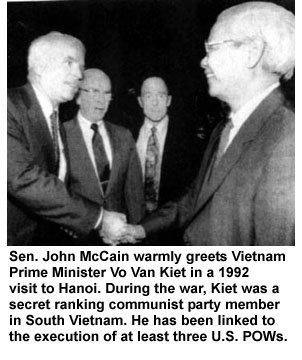 http://bushstole04.com/Editorials/why_is_mccain_files/image002.jpg
http://www.theodoresworld.net/pics/0506/mccainandnamImage1.jpg
http://www.examiner.com/images/newsroom/small/small_5AD1BD9F-3048-2F0A-CA1E251CED10907B.jpg
Our Abel Danger team notes you recommended to your brother Field McConnell, lead plaintiff in the lawsuit `Hawks CAFE v. Global Guardians', that he should identify the person(s) with oversight responsibility for installing – or not removing – the QRS11 missile gyroscopes from flight boxes used on Boeing passenger planes.
http://www.hawkscafe.com/107.html
Following your advice and your government service record, we have discovered that JPATS (Con Air) droned aircraft were modified with QRS 11 gyroscopes, explosives and anti-hijacking devices and then recycled by Sidley Austin insiders through `abusive' tax shelters into a bogus war game (The Songbird) and civilian aircraft (Boeing) community.

"Kristine Marcy is a retired federal executive with over 30 years of experience in ten federal departments and agencies. During her career, Ms. Marcy served as Chief Operating Officer of the U.S. Small Business Administration; Senior Counsel for the Detention and Deportation Program, Immigration and Naturalization Service; Associate Director of the U.S. Marshals Service; Deputy Associate Attorney General, Department of Justice; Deputy Director of both the Office of Construction Management and the Office of Budget at the Department of the Interior; Deputy Assistant Secretary of the Office of Civil Rights, Department of Education; and Assistant Director, Office of Personnel Management. Ms. Marcy has also served with the Department of Energy, the Office of Management and Budget, and the Office of Economic Opportunity and the Price Commission."
http://www.mcconnellinternational.com/kmarcy.html
As the Homeland Security Team Leader at McConnell International LLC, you will no doubt recognize the dangers of Boeing passenger or Con Air prisoner aircraft being switched to fly as remotely-controlled drones targeting the enemies of revolutionary terrorist groups such as the one allegedly mentored by Ms. Dohrn and Ms. Obama.
Yours sincerely,


Field McConnell, United States Naval Academy, 1971, Forensic Economist
fbi@...
or
avalonbeef@... Astana
, Kazakhstan 30 year airline and 22 year military pilot, 23,000 hours of safety, Tel: +7 (777) 952 9767

David Hawkins hawks-cafe@... Tel: 604 542-0891 Leader, Reform Party of British Columbia, Former oil industry operating engineer; Blow-out specialist, safety officer, trouble shooting, 15 years experience explosives, incendiaries, radioactive materials

Civil Case 3:07-cv-49 'Hawks CAFE v. Global Guardians'
http://www.hawkscafe.com/107.html

Clerk's Office, Federal District Court of North Dakota
655 1st Ave. North, Suite 130, Fargo ND 5810