How Michelle Obama, Women@Sidley associates hired HUBZone hit teams; encrypt Osama myth for public-key infrastructure partners of Kristine Marcy COO Small Business Administration, 1998- 9/11
Open e-mail sent May 25, 2008 to:
Susan A. Stone, Partner, Sidley Austin
sstone@...
How Obama hired HUBZone hit teams to encrypt an Osama myth

Hawks CAFE has discovered how Michelle Obama and Women@Sidley associates hired HUBZone hit teams to encrypt an `Osama myth' for public key infrastructure partners of Kristine Marcy, COO of the U.S. Small Business Administration (1998- 9/11).
"Inspection Report No. 99-06-01 Office of Inspector General
U.S. Small Business Administration
June 30, 1999
TO: Kristine Marcy Chief Operating Officer
.. SUBJECT: Inspection of Management Issues in a 'Paperless"

Environment

.. To gain the greatest benefits from the electronic exchange of information, SBA will need to allow at least limited access by outside partners to its systems .. using a Public Key Infrastructure (PKI) that employs digital signatures and identifiers called digital certificates to prove a sender's identity and a message's integrity .. recommends Chief Operating Officer require

each program [e.g. development of the Osama myth]

..

develop contracts for use with the trusted third parties providing PKI services ... Chief Operating Officer indicated her support for our findings" .. "SBA is responsible for regulating and implementing the HUBZone Program. It certifies firms for eligibility to receive HUBZone contracts and maintains a listing of qualified HUBZone small businesses federal agencies can use to locate prospective vendors .. SBA works closely with ten participating federal agencies to identify procurement opportunities for HUBZone businesses ... Department of Agriculture (USDA) ..

Farm Service Agency .. Department of Defense (DoD) ..

United StatesAir Force (USAF) ..

United States Army (USA) ..

Picatinny Arsenal .. United States Navy (USN) .. Navy Space and Naval Warfare Systems Command (SPAWAR) .. Department of Energy (DOE) ..

Department of Health and Human Services (HHS) ..

National Institutes of Health (NIH) .. Department of Housing and Urban Development (HUD) .. Department of Transportation (DOT) .. Federal Aviation Administration .. Department of Veterans Affairs (VA) ..

Environmental Protection Agency (EPA) .. General Services Administration (GSA) .. National Aeronautics and Space Administration (NASA) ..

Last Modified: 10-29-99
"
http://www.sba.gov/IG/paperlessreport.html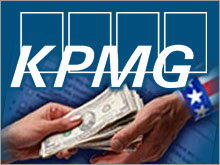 http://i.cnn.net/money/2006/09/15/news/companies/kpmg_court/kpmg_tax_shelter.03.jpg
http://www.sidley.com/files/CrossSellImages/women-at-sidley.gif
"
TITLE 18
>
PART I
>
CHAPTER 115
> § 2384. Seditious conspiracy
If two or more persons in any State or Territory, or in any place subject to the jurisdiction of the United States, conspire to overthrow, put down, or to destroy by force the Government of the United States, or to levy war against them, or to oppose by force the authority thereof, or by force to prevent, hinder, or delay the execution of any law of the United States, or by force to seize, take, or possess any property of the United States contrary to the authority thereof, they shall each be fined under this title or imprisoned not more than twenty years, or both."
http://www.law.cornell.edu/uscode/18/usc_sec_18_00002384----000-.html
Hawks CAFE invites you to show cause why you Susan Stone and your Sidley Austin associates, including Michelle Obama and former (?)Weatherwomen terrorist Bernardine Dohrn, should not be indicted under U.S. Code § 2384. (Seditious Conspiracy).



Yours sincerely,


Field McConnell, United States Naval Academy, 1971, Forensic Economist
fbi@...
or
avalonbeef@... Astana
, Kazakhstan 30 year airline and 22 year military pilot, 23,000 hours of safety, Tel: +7 (777) 952 9767

David Hawkins hawks-cafe@... Tel: 604 542-0891 Leader, Reform Party of British Columbia, Former oil industry operating engineer; Blow-out specialist, safety officer, trouble shooting, 15 years experience explosives, incendiaries, radioactive materials

Civil Case 3:07-cv-49 'Hawks CAFE v. Global Guardians'
http://www.hawkscafe.com/107.html

Clerk's Office, Federal District Court of North Dakota
655 1st Ave. North, Suite 130, Fargo ND 5810