Hawks CAFE will help Iraq recover U.N. Oil-for-Food money stolen and laundered through New York's AXA Gallery

in an alleged conspiracy between

BNP Paribas, Citigroup, KPMG and the Sidley Austin mentors, Michelle Obama-bush and Karen Popp Goes the Weasel.
http://groups.yahoo.com/group/hawkscafe/message/522
"Reuters .. Monday, June 30, 2008 NEW YORK - Iraqi government sued dozens of companies ..

for more than $10 billion on Monday, saying they paid kickbacks to former Iraqi leader Saddam Hussein's government under U.N. oil-for-food program ..

inquiry by former U.S. Federal Reserve Chairman Paul Volcker found program corrupted by 2,200 companies from 66 countries that paid $1.8 billion in kickbacks to Iraqi officials to win supply deals .. lawsuit said

defendants violated U.S.
racketeering laws including mail and wire fraud and money laundering .. companies named

include European bank BNP Paribas"

.. "Two other people who directly profited from Oil-For-Food scandal ..

are Obama's Arab backers Antoin Rezco and billionaire Nadhni Auchi, who were both in it up to their necks. Auchi ..

made most of his money
as a fixer and conduit between Saddam Hussein
..

allegedly using

bank he owned in
Luxembourg
to launder oil for food money for Saddam. Auchi and Rezco are particularly tight and Obama
appeared at a party
given for Auchi by Rezco at Rezco's mansion in 2004 .. Auchi
lent millions of dollars to Barack Obama's fundraiser via Rezco
just weeks before that complex series of transactions between Rezko and Barack Hussein Obama involving the 2005 purchase of Obama's Chicago mansion and Rezko's wife's purchase of an adjoining landlocked parcel from the same owner on the same day."
http://www.canada.com/vancouversun/news/story.html?id=6f707d26-f6c4-45cd-bda7-16cbfa70f169
http://joshuapundit.blogspot.com/2008/06/iraq-sues-over-oil-for-foodand-obama.html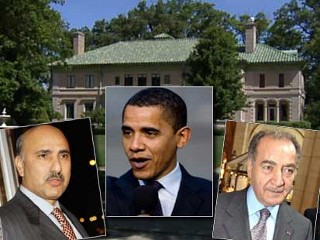 All around the
Obama-bush
The monkey chased the weasel;
The monkey thought 'twas all in fun,
Popp Goes the Weasel.
http://mymoratorium.files.wordpress.com/2008/04/micho.jpg
http://www.spectranet.no/eye/film/posters/poster_pop_goes_weasel.gif
http://media.collegepublisher.com/media/paper971/stills/437c9443cd0f1-66-1.jpg
Our Abel Danger counter intelligence team invites you to leave the defendants and join the plaintiffs in a Popp Goes the Weasel game at "Hawks CAFE v. Global Guardians".